Shipping
Shipping Policy - Free Ground shipping for all orders over $150
See how fast you can get your order (see map below)
We ship from North Carolina
10/29/2021 Shipping may take longer that expected. We ship all orders we receive by 3:30PM EST the same day. UPS, Fedex and USPS are experiencing the highest volumes in history. Please expect delays and plan accordingly. Thank you
Orders received by 3:30 pm Eastern Standard Time will be shipped the same day
Shipping takes place Monday-Friday.
Weekends and Holidays should

not

be counted when calculating shipping time.
If you need to have your order on a specific day it's best to receive the order 1-2 days before, to guarantee you will have it on time.
Below are approximate ground shipping times. When figuring shipping time only count business days which are Monday - Friday.
Any delays caused by weather are

not

subject to
reimbursement
Free Shipping is available for US orders only
See map below to find out how fast shipping will be to your area.
Florida, Georgia, South Carolina, New York, New Jersey, North Carolina are really fast. Free for all orders over $150
Your shipping rates will be calculated at the time of your order
Call for Saturday Delivery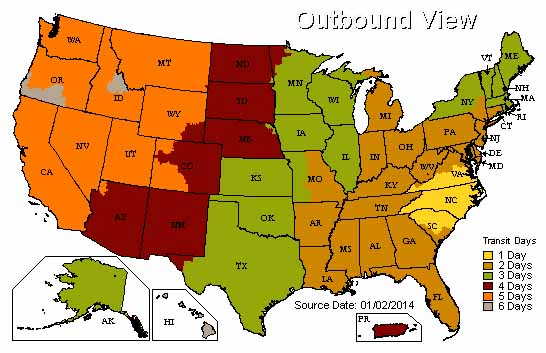 Canadian Brokerage Fees
"Canadian Customs requires Canadian recipients to pay applicable duties and taxes on each shipment entering Canada. These charges may include PST, GST, HST, duties and other taxes of goods (e.g. excise tax). A brokerage fee is also charged to process shipments and present the requisite customs paperwork to Canada Customs on the importers behalf.
Your order will be shipped under UPS's e-Tailer Brokerage Program (eBP), where eligible shipments imported into Canada for non-commercial purposes and valued under CAD$ 200 shipped via UPS Standard service are subject to a reduced brokerage fee of CAD$ 10, plus any applicable duties and taxes. Shipments valued at CAD$ 200 and above and/or being imported into Canada for commercial purposes and/or subject to specialized clearance may incur additional fees.
Please be aware that UPS will request payment of these charges at the time of delivery. You have the ability to call UPS ahead of time (1-800-742-5877) to pay these charges, eliminating the need for payment on delivery"