Posted by Lynn Bogen on Jul 19th 2019
Hand Tied Hair Extensions by Vision Hair Extensions
Get a free "Hand Tied" instruction PDF
What are hand tied hair extensions? & How do I install hand tied hair extensions? (see PDF link above for printout instructions)
Hand tied hair extensions are a type of weft that is hand sewn to give you the thinnest track of hair for the lightest, most invisible hair extension application. Hand tied hair wefts are labor intensive to create which is why the price is higher than machine tied hair extensions.
Application: Typically each weft is 11" wide and 14 grams in weight. The weft should not be cut or it may unravel, to adjust the size the weft may be folded or overlapped with more than one weft per row depending on the individual client's hair.
The popular "Beaded Row" application method is achieved by applying 1-3 rows of silicone micro rings (micro beads are the same as micro rings) to a client's hair. Micro rings are placed about 1" apart in a type of horseshoe shape from temple to temple. Keep at least 1 ½ " away from hair line. Most rows contain 3-4 wefts sewn together.
Who should have hand tied hair extensions? The best results for beaded row hand tied extensions are people who have long hair past shoulder length and on the thinner side. A person with short, blunt hair should have a different technique such as Keratin Fusion. Thin hair blends in easily with hand tied wefts and will look incredibly natural. If ends of clients hair is too thick or blunt the ends of their hair will need to be thinned to blend, I like using a razor for thinning. When properly applied, hand tied extensions are the most comfortable and least damaging extensions.
Make sure to go to a trained professional to get hair your extensions applied. Good hair extension application takes experience so choose your stylist wisely.
Where you can buy Hand Tied Hair Extensions?
Vision Hair Extensions makes beautiful beaded hand tied extensions for a natural application.
These are the silkiest hand tied wefts available. The best price anywhere for blonde, hand tied hair extensions. You will love them!
They are sold in single, 14 gram bundles. Mix and match colors for the perfect color mix. You won't have to buy more hair than you need. 8 bundles equal a full pack of 18" Bohyme Luxe hand tied.
Buy 4 bundles get the 5th bundle 50% off
Made of 100% Human Cuticle Correct hair
European Quality
Straight texture, may wave slightly
18" length hair
Wefts approx. 11" wide
14 gram weight per bundle - the same weight as other brands
3-10 bundles required for a full head
$39 per bundle
Buy 4 get 1 for 50% off
Mix and Match colors
Do not cut wefts
More colors to come...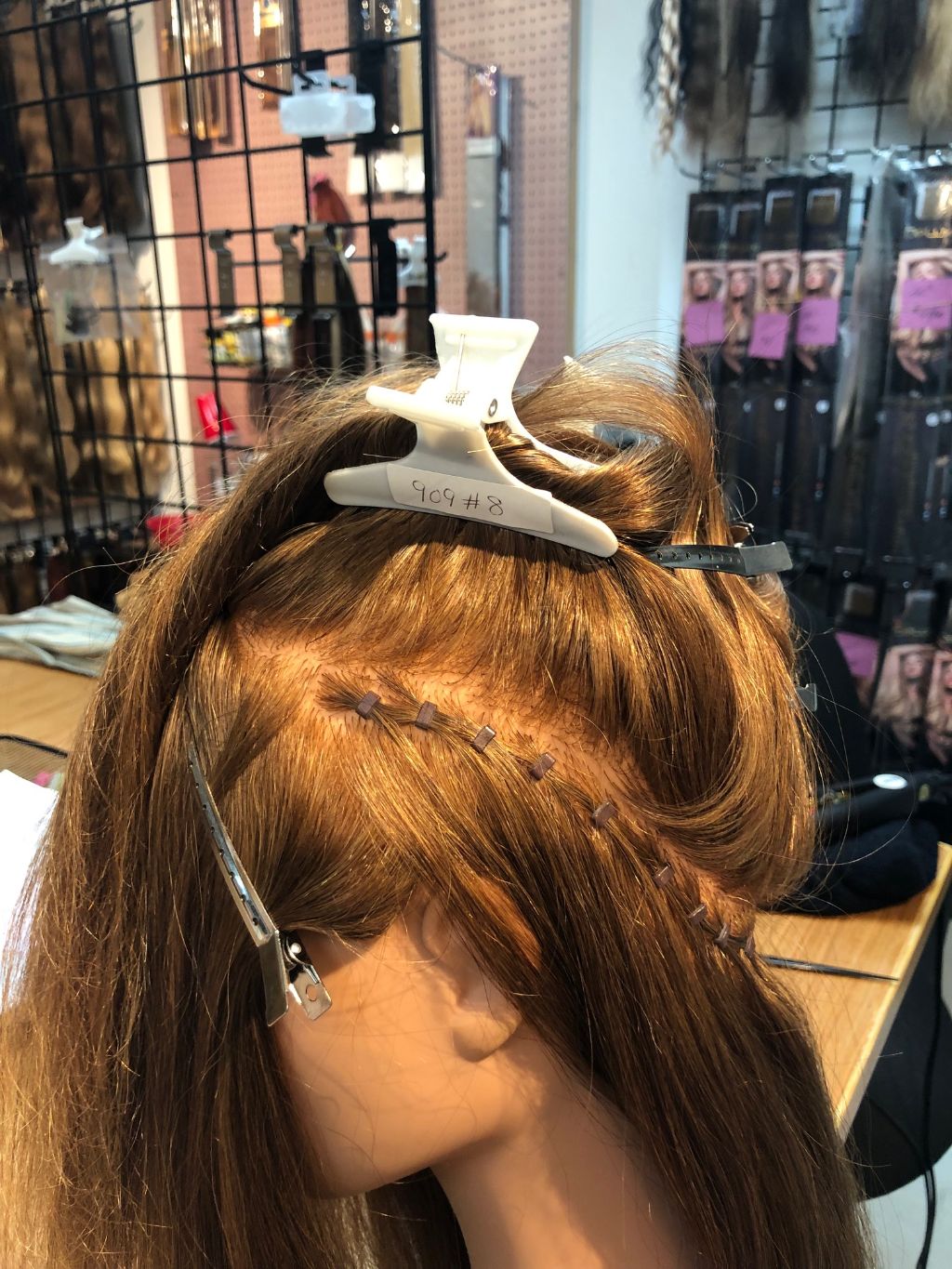 Beaded rows applied using large or X-large silicone micro rings. The track is chained together by pulling 1/2 of the previous bead hair through the next bead.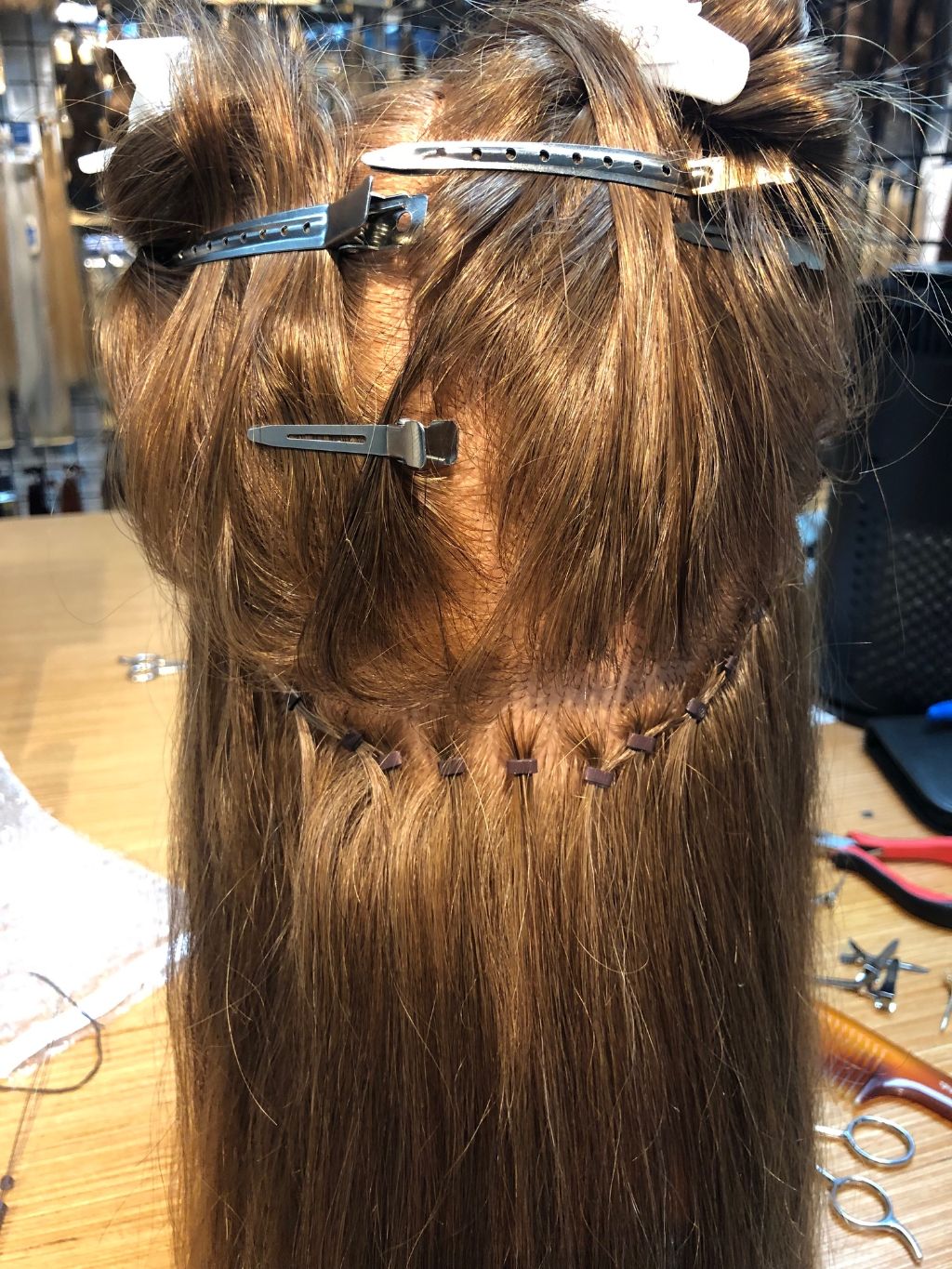 In the nape area beads can be individual, but chaining together is more secure.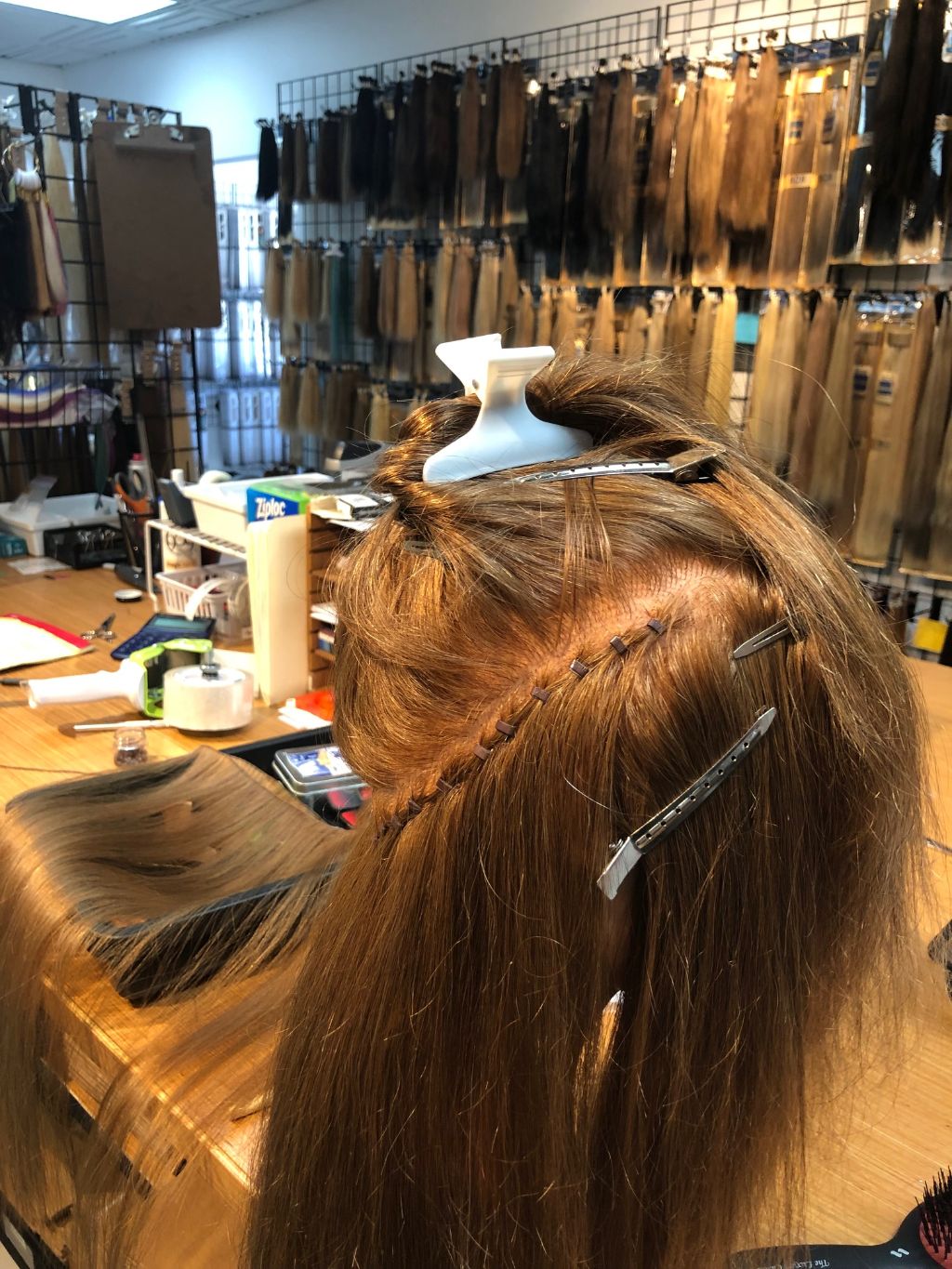 Apply the same chain row application on both sided of the head, ending at the nape.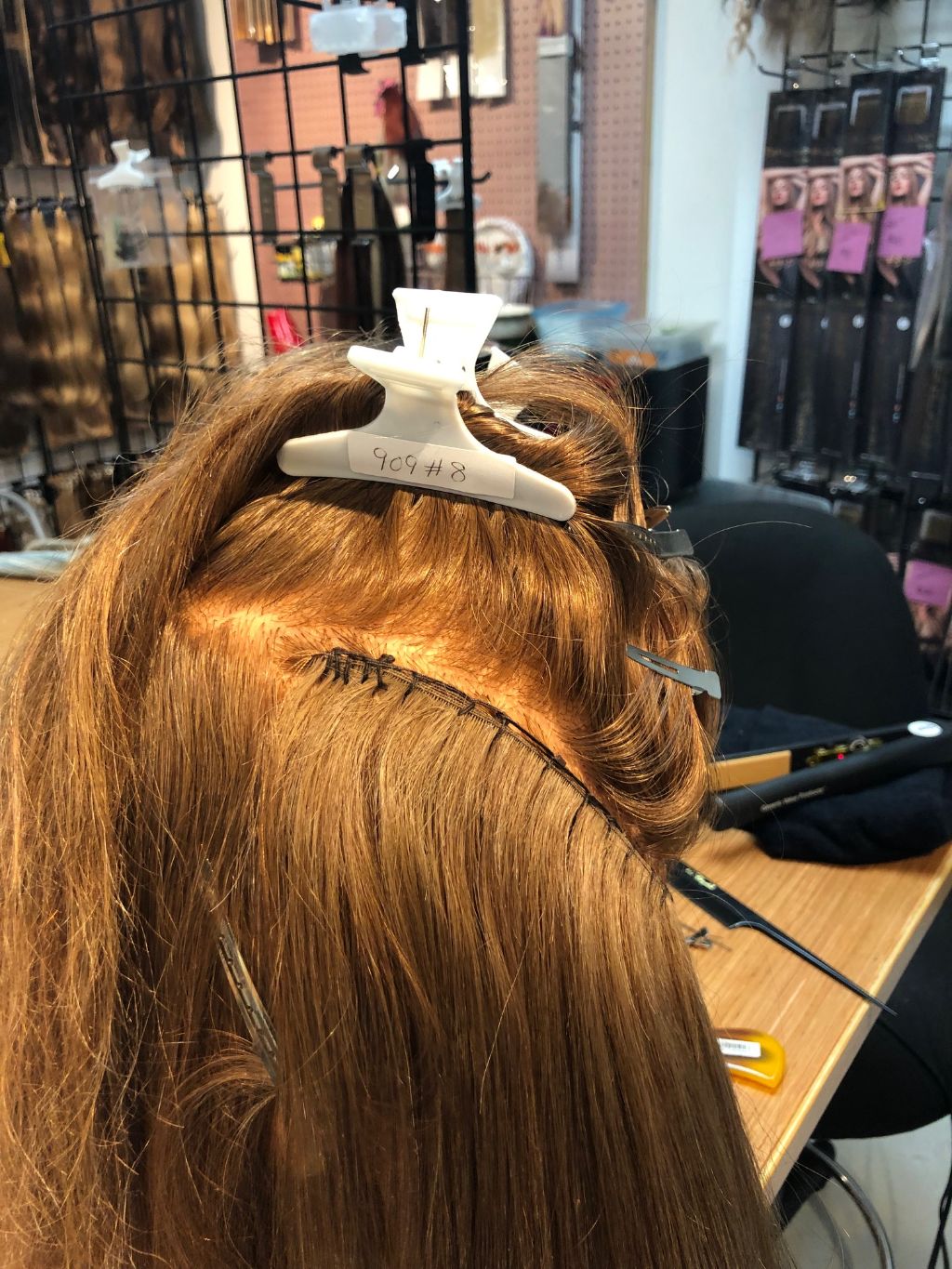 Sew wefts to the chain using a blanket stitch. This row has 2 wefts. You can sew on up to 4 wefts at the same time.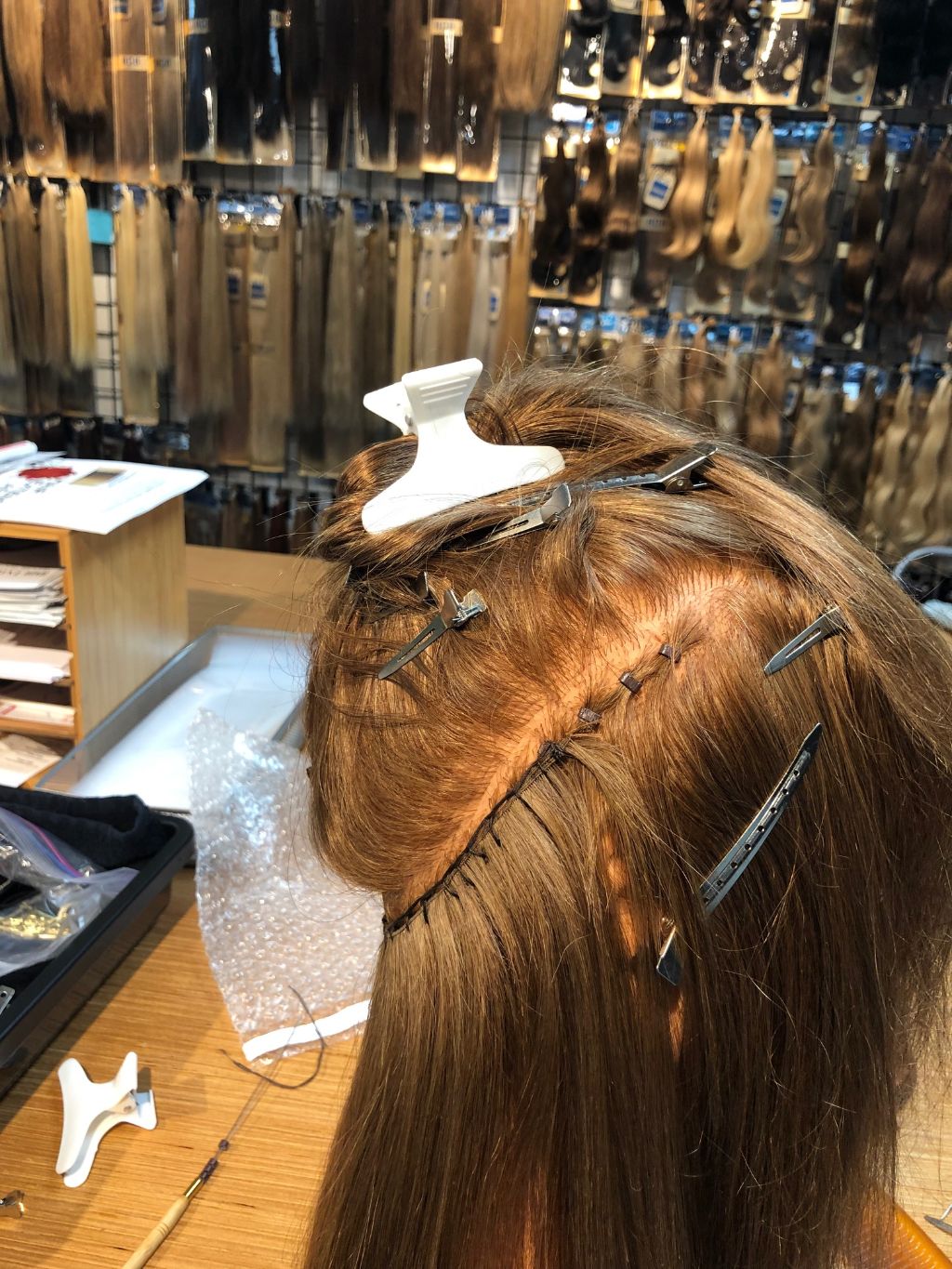 Depending on how long the row is it will usually come up short on the opposite side. Now we will take a second set of 2 wefts and apply them on the left side going in the opposite direction. This gives you 4 rows of wefts in the back but 2 rows on either side. This is perfect for most applications.
You may do a 2nd row 1/2"-1" above the first row.
Every client will have different needs so plan your application individually.
Vision Select has wonderful Hand Tied hair extensions available at a great price.